New Mexican Paolo Vela was bleeding. He didn't know it at the time, but a slight trickle of blood – something that happens on occasion in the dry New Mexican air – was making its way out of his right nostril. But at 3:57 PM on a random Sunday in June, nothing was going to stop the New Mexico United Academy captain from finishing the job. Vela rose up. Fighting 96 minutes of fatigue, a weekend spent on highways in the scorching desert sun, and the weight of expectation placed on his shoulders, Vela lifted hundreds of fans, his community, and his teammates to a victory that the rest of the world said they had no business earning.
New Mexico United wasn't supposed to succeed. The spreadsheets all said that the market wasn't big enough – that the community would never support a USL Championship club. But each and every season, the community continues to grow. In only its fourth season in operation, New Mexico United is – despite those spreadsheets – sustaining a successful pro club (averaging a league-best 11,000+ fans per game). The Somos Unidos Foundation is fielding a free-to-play USL Academy program that finished third in the nation in its inaugural season. And the club has now added a U23 team that is doing things very differently, in a way that is defiantly New Mexican.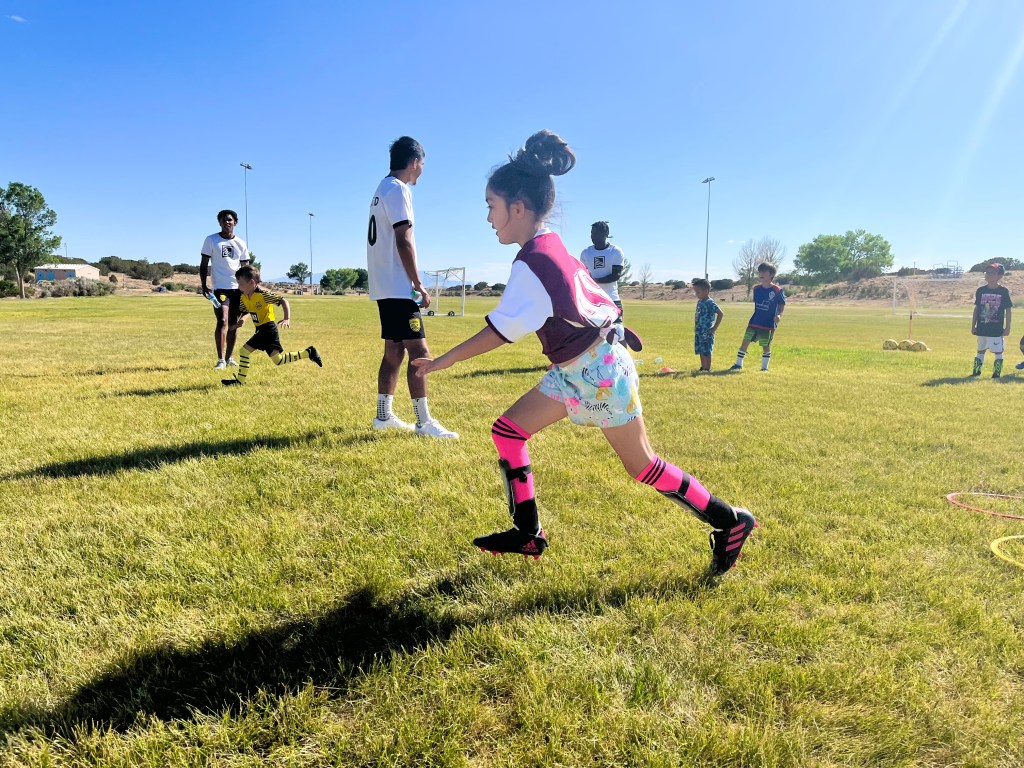 67 hours earlier, on Thursday night, Vela was 67 miles north. He was one of a handful of players on both the New Mexico United Academy team and the U23 team competing in USL League 2. As such, he wouldn't be playing in the U23 home match against Salt City SC – a decision the coaching staff made to make sure the players didn't overwork themselves. But instead of taking the day off, Vela volunteered to help club staff make gameday happen – moving merchandise and cheering on teammates, as United U23 played their third home match in as many locations on Thursday night.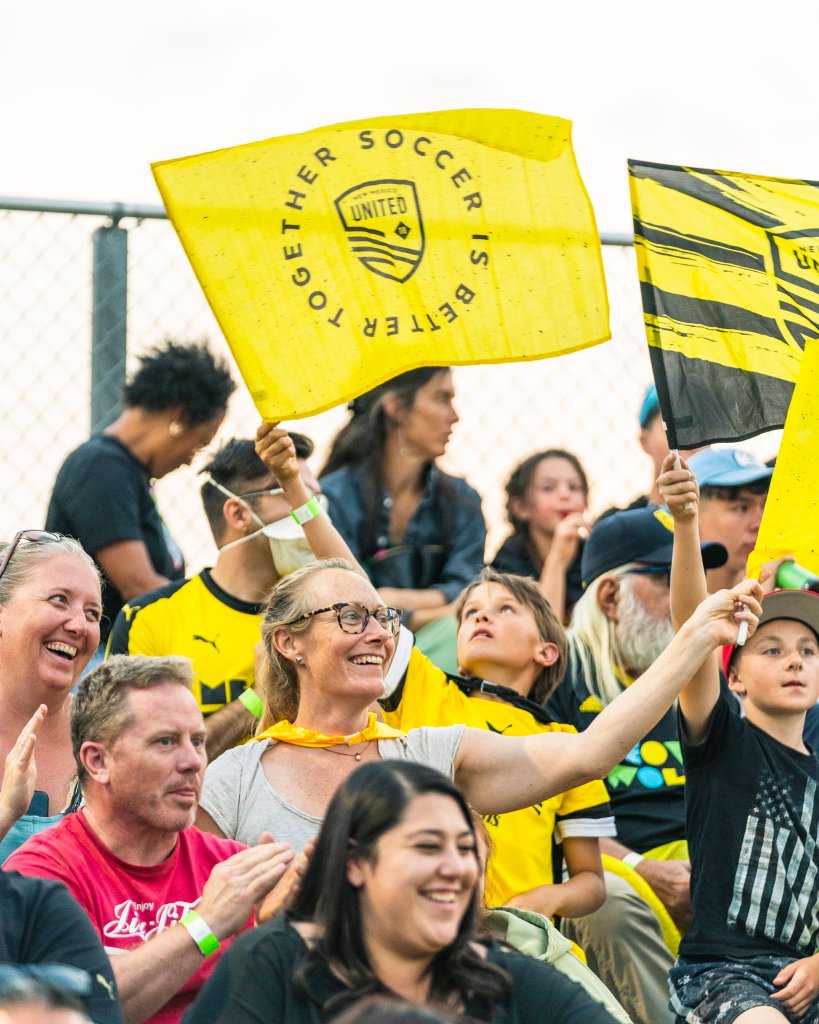 Capital High School in Santa Fe was home for the nomadic squad that evening. Prior to kicking off their inaugural 2022 season, the decision was made to do something different with this team: Instead of playing their home matches in Albuquerque, as the first team and academy do, the USL League 2 club plays their home matches across New Mexico – bringing United soccer to all 121,000 miles, an area larger than Italy – of the entire state that they represent. The state has responded to that with vigor and pride; Each match that United U23 has played has been better attended than the one before it. Albuquerque, Roswell – and on this night, Santa Fe – have filled bleachers with hundreds of Black & Yellow-clad New Mexicans, proud to see our state's club in their hometown.
Thursday night's match saw United's Fernando Herrera tap home a rebound to take an early 1-nil lead before conceding two in the middle portion of the second half. But falling behind didn't seem to phase them, as New Mexican Lamar Bynum equalized from the spot and New Mexican Anthony Muñoz made several excellent saves to earn United a draw on the evening. Thursday night's match also saw more than 400 fans fill the stands at Capital High – holding yellow flags high in the air and celebrating the grit that earned a point that night.
"It was humbling to not be on the pitch with my teammates, but it was also an amazing opportunity to be able to support the organization in a different way. It was great to see what happens behind the scenes on gameday. There were players on the team who aren't from here, who aren't New Mexican, but who made me – as a New Mexican – proud to see them represent our state. They fought like they were from here."

-Paolo Vela
The next day saw Vela and several of his U23 teammates make the return trip up I-25 to Santa Fe. Six players, and their assistant coach – United legend David Estrada – offered a free clinic to Santa Fe youth players. The incredible contributions of the Somos Unidos Foundation and Nusenda Credit Union made this program completely free for any kid in the area.
Around the same, time back at the United Team Store in Albuquerque, fans who had been patiently waiting – some of them for hours – were finally about to kick off some excitement of their own. United's Pride 2022 merchandise launch was set for 5:00 pm, with t-shirts, scarves, stickers, and more all ready for the taking (with net proceeds going to the Transgender Resource Center of New Mexico.) The anticipation in the air was tinged with sadness, though. A few weeks prior, a member of our United family, Robert "Stone" Chouinard left us too early. Stone was the first in line at every United merchandise launch, and this was the first one the club had held since Robert's passing. But, he would be at the front of the line, nonetheless.
After Robert got his chance to shop, (our moment of silence,) more fans made their way inside, purchasing t-shirts that represented bisexual, pansexual, transgender, lesbian, and non-binary members of our familia, snapping photos with New Mexican drag queen Vanessa Patricks and United players, and celebrating the incredible New Mexican community that we have all created together.
In Santa Fe, Vela and his teammates spent about two hours coaching before catching dinner in-town. Vela then drove the hour south back to Albuquerque, while the rest of his teammates continued in the opposite direction to Taos – the site of the next night's U23 match.
Fans poured into Taos Eco Park on Saturday evening. Some made the two-and-a-half-hour journey from the Duke City, while many others were proud Taoseños. A local production company, Razor Sharp Productions, had reached out to United weeks before, offering to live stream the match. When the club offered to pay them for their services, they declined, saying:
"It's all about community and being proud Taoseños. Our team agreed to livestream this U23 Taos game at no charge if it was approved by your organization to help promote and encourage youth athletes to join soccer programs around our state. All we ask in return for this particular game is for 6 shirts for our crew to wear and represent during the game."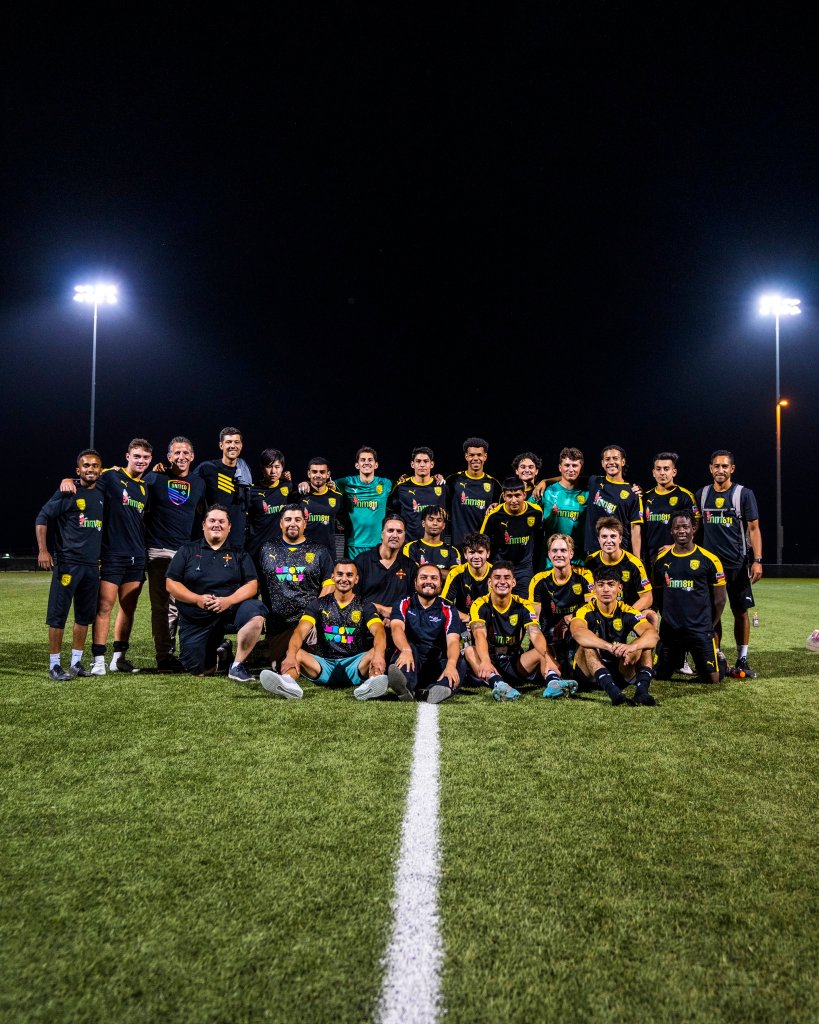 For 80 minutes, United and Salt City played thrilling, albeit scoreless soccer. Muñoz stood on his head a few times, keeping the home side level, but still a goal eluded them. Until THIS hit from Andre Ochoa:
That Goal of the Year candidate opened the floodgates for United, as New Mexican Marcus Garcia and New Mexican Larsen Rogers personified New Mexican persistence in adding the goals that sealed a 3-nil victory – the first in United U23 history. The 447-strong Taos crowd roared and relished in the win, proud of their New Mexican team.
Just 22 hours later, it was the United Academy's turn, as a few hundred more fans made their way to Mesa del Sol in anticipation of their match against El Paso Locomotive FC's Academy. For Vela and seven of his teammates, this would be the last match they would play for the Academy team, as they graduate this season. Like the U23 match the night before, this contest lacked scoring, but not excitement. New Mexican Taylor Rogers – Larsen's younger brother – created several chances for United, combining well with New Mexican Dane Gallegos and New Mexican Ivan Moore on a few chances that nearly earned the lead. New Mexican Evan Kowalski was terrific in net – making several fantastic saves. But in the 69th minute, he saw both a red card and penalty given following a collision in the box, a long discussion between officials and coaches, and plenty of heated disagreement from the United side of the touchline.
Enter New Mexican Andres Vela (no relation to Paolo.) The goalkeeper began warming up as soon as the red card was issued, knowing that he would be immediately stepping on to face a penalty. As Vela warmed up, his teammates – still frustrated by the penalty/red card decision – began to provide encouragement, knowing that in a match without any score so far, one goal would likely be all either team would need.
"It's my last game, so I've got to go out with a bang… When I came in, I knew I was going to save it. There was no doubt. All the guys on the bench were hyping me up, and I was like 'I got this. I've got to do this.'"

Andres Vela
That unapologetic New Mexican swagger lifted Andres Vela to his right. Meeting and beating the shot to the spot for the biggest save of his United Academy career. But the job wasn't yet done. As the clock struck 90 minutes, the PA announced that there would be seven minutes of stoppage time to see out to earn a draw. United got through five of them, and then Rogers decided a draw wouldn't be enough.
The Volcano Vista grad streaked down the left side of the pitch, beating two defenders before drawing a foul about twenty-five yards away from goal. New Mexican Miles Merritt stood over the dead ball, waited for the whistle, and launched toward the back post.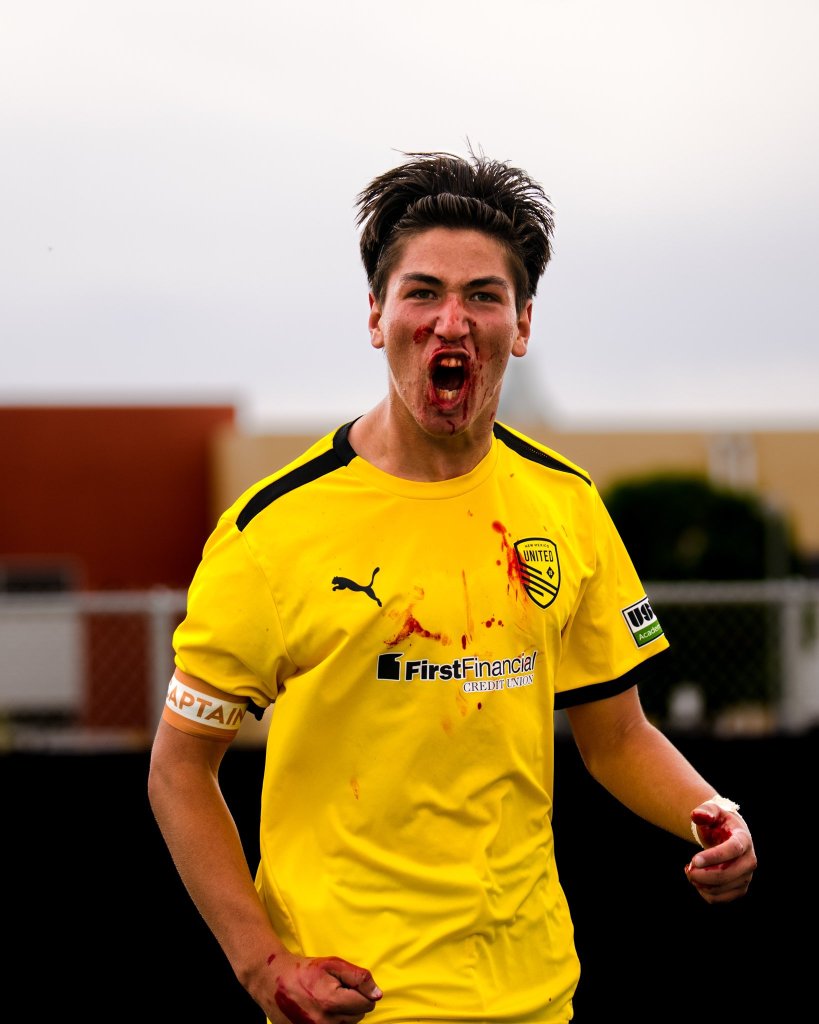 Fans were jubilant – players and coaches: vindicated – and the blood came pouring out of Paolo Vela's nostrils as he headed home the winner on Sunday afternoon. An act of defiance from a young man, from a team, from a state, that wouldn't accept defeat, no matter the odds. All of this was unimaginable five years ago. The notion that New Mexico could be home to this club, and that three tiers of New Mexican soccer – performing at the highest levels – could exist and export New Mexican spirit to the world would have made even the most ardent Land of Enchantment apologist scoff. But we're here now. New Mexicans supporting New Mexicans. Community supporting community. Lifting one another up to achieve more. When we come together, there's no limit to what New Mexicans can achieve. Yes, Vela defied expectations. Yes, he carried the weight of this community on his shoulders as he rose up, but he was also buoyed by it; The collective will, grit, care, and fire of a state lifting him higher like the hot air balloons that dot our morning skies. From Roswell, to Santa Fe, to Taos, and back again. From Pride merch launches, to youth clinics, and to every New Mexican, this is what the United community means.