---
2024 Season Tickets are on-sale Now!
Familia, 2024 Season Tickets have DROPPED!
As loyal fans, we believe you deserve the very best, and our 2024 Season Tickets offer our best package yet. Here's why securing your 2024 Season Ticket is the ultimate game-changer: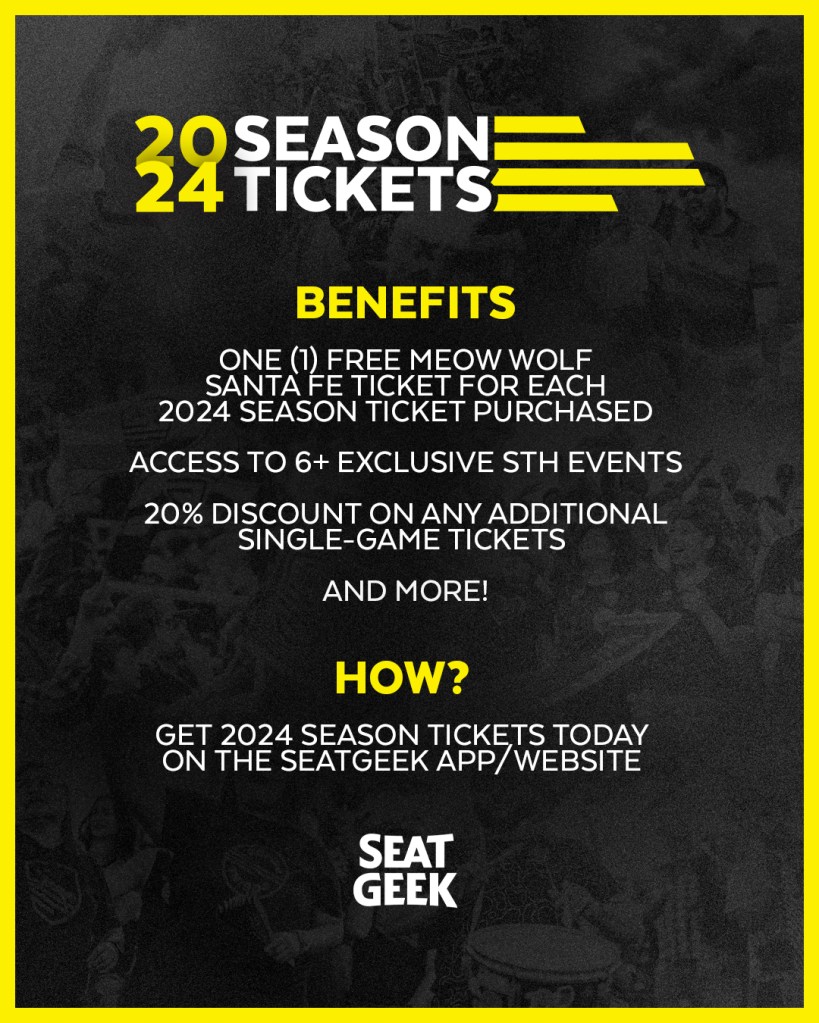 Unbeatable Price, Unforgettable Moments: Our Season Tickets are your golden ticket to a season filled with exhilarating soccer action. With the best price guarantee, you'll be saving big while enjoying heart-pounding matches right here in New Mexico.
Dive into the World of Meow Wolf: We're not stopping at soccer. Each season ticket holder will receive a complimentary ticket to Meow Wolf, where art and adventure collide. Step into a surreal world and let your imagination run wild as a token of our appreciation for your unwavering support.
Exclusive 20% Discount on Individual Match Tickets: As a season ticket holder, you're in the driver's seat with an exclusive 20% discount on additional individual match tickets. Bring your friends, family, and fellow fans along for the ride at a fraction of the cost.
Access to Exclusive Events: Brace yourselves for a series of exclusive and first-access events meticulously designed just for our season ticket holders. Get up close and personal with your favorite players, experience behind-the-scenes action, and create cherished memories that last a lifetime.
Your Seat, Your Sanctuary: When you purchase a season ticket, you're not just buying a pass; you're securing your personal piece of the action. Say goodbye to the frantic search for the perfect seat – it's already reserved just for you. Every home match, you'll have YOUR seat for history in the making.
Priority Access to Our Future Stadium: New Mexico United is on the rise, and our fans will be at the forefront of our journey to a future stadium. As a season ticket holder, you'll receive priority access when we unveil our very own stadium. Be part of history and witness the birth of a legacy.
Don't miss out on this extraordinary opportunity to become a part of the New Mexico United family, where your passion meets excellence, and your support fuels our state!
Join us, and let's make the 2024 season one for the books! We can't wait to share this incredible journey with you.
---